Choose Your Own Adventure!
Stay at Brodie's
Newly renovated and perfectly located, Brodie's Lakeside offers first-class accommodations.
Rent a Boat
Choose from our Pontoon, Deckboat, or Center Console.  We offer the cleanest, most well-kept boats on the lake.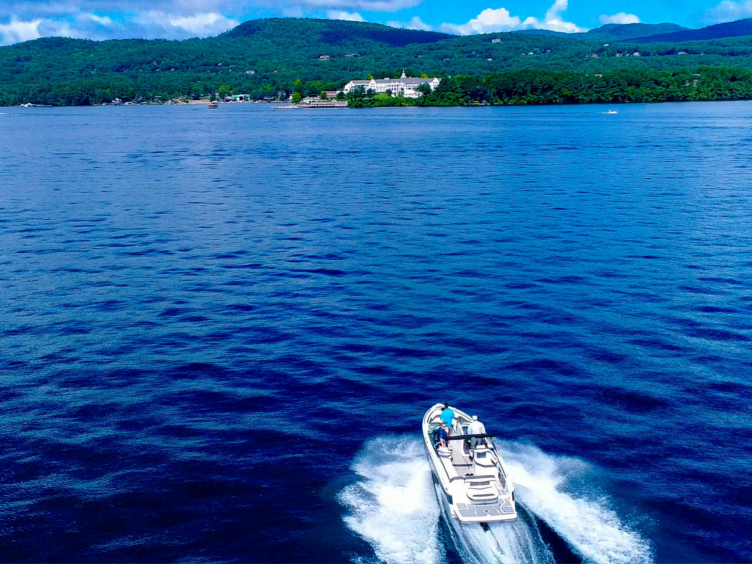 Charter a Boat
Relax on the water with your own personal captain. Waterski, tube, sightsee, or enjoy a sunset cruise.
Marina
With dock slips, short term rentals and seasonal JetSki slips, our marina is all you need and more.
Stay and Play on Lake George
We take pride in offering well maintained and reasonably priced rental boats on Lake George so that visitors to Lake George can take in the lakes 32 miles of beauty. Lake George is rated one of the most beautiful lakes in the United States and seeing the lake from a rental boat from Brodie's Lakeside is an experience you don't want to miss!
We have an experienced and knowledgeable staff that will go over boating safety and navigation rules with you prior to departing to ensure your comfort and well being. Our goal is to get you, your family and friends on Lake George for a safe, fun filled day with numerous sights to see and things to do.
Enjoy the lake
Nestled between Lake George village and Bolton Landing, this house is perfectly located for all of your vacation needs. Nearby you can find restaurants, arcades, a theme park, horseback riding, and best of all, Lake George is right out your front door! A spacious living room, full size kitchen, 2 1/2 baths, charming decor, with a wrap around sun porch and beautiful bay windows to enjoy the uninterrupted view of Lake George. We also rent 30 seasonal slips and 3 moorings that we would be happy to talk to you about.
The entire Brodie family (owners of the property) were extremely professional, courteous and attentive. The house is completely renovated, immaculate, convenient and charming. It is right on the lake and has breathtaking lake views. Being next to the boat rental is a huge advantage as well, as you can walk out of your back door and into your boat.
The staff at Brodie's was so informative and helpful with everything from how to drive the boat to fun activities and places to eat. The boat was so clean inside! We will definitely be back to rent from Brodie's again for our next vacation!!! Thank you for an amazing day full of wonderful memories!!!! 5 stars all the way!!!!!!!!
These are the type of people you enjoy doing business with. Booking was a breeze, easy to find, equipment is clean and up to date and the prices are worth every penny for the enjoyment we got out of being on this gorgeous lake for the day. We will be back to Brodie's again.